Art, Artists and the Bible
Symposium
21–24 September 2006
University of Wales, Lampeter
The first of two symposia to be held under the auspices of the AHRC Project "Imaging the Bible in Wales" took place at University of Wales, Lampeter, between 21st and 24th September 2006.
In eight plenary sessions, speakers explored aspects of the symposium's theme, "Art, Artists and the Bible". The speakers were Professor Clyde Binfield (Sheffield) Art and the Bible Narrative: A Chapel Dimension; Peter Lord (Aberystwyth) The Question of 'The Kingdom': Marx and Biblical Imagery in the Welsh Art of the Depression; Dr Nicola Gordon Bowe (Dublin) Conflict and Resistance: heroic images of Modernism in the stained glass of Wilhelmina Geddes (1887-1955); Dr Sarah Jane Boss (Lampeter) Images of Mary in Welsh Visual Culture of the 19th and 20th Centuries; Professor John Harvey (Aberystwyth) Visual Typology and Pentecostal Theology: The Paintings of Nicholas Evans; and the Revd Tom Devonshire Jones (London) Bible and Artists-Two Way Traffic.

Revd Tom Devonshire Jones
In addition, Barrie and Wendy Armstrong (Cheshire) discussed Biblical Imagery from their research project and book, The Arts and Crafts Movement in the North West of England, and from the Project Team, Dr John Morgan-Guy and Martin Crampin shared some of the findings from the fieldwork undertaken during the first year of the Project.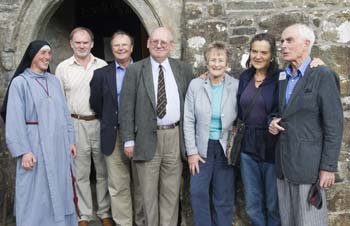 Some of the speakers at the Symposium at Llanwenog
On the evening of the 22nd, the Vice-Chancellor of the University was the host at a Reception and Conference Dinner, and on the Saturday afternoon visits were arranged to see biblical artwork at several nearby places of worship. On the final evening, Professor Nigel Yates, the Keeper of the University's Special Collections, Archives and Manuscripts introduced the conference delegates to the wealth of Biblical material in the Founders' Library, including a 13th century Bible and 15th century Books of Hours.

Conference delegates at the Founders' Library
Several papers presented at the Symposium have subsequently been published, some in Imaging the Bible: An Introduction to Biblical Art, ed. Martin O'Kane (SPCK, 2008).
Symposium Programme | Saturday Excursion | Imaging the Bible book