Art Treasures of Wales
Highlights from the National Collection
14-17th January 2007
Christie's, 8 King Street, London SW1
This year National Museum Wales celebrates the centenary of its foundation. As a permanent memorial of this milestone in its history, the Museum is launching a fundraising appeal to establish a National Museum of Art, which, if the plans reach fruition, will occupy the whole of the top floor of the museum's Cathays Park building in Cardiff.
To launch both the centenary commemoration and the appeal, more than thirty paintings, sculpture and works on paper were selected for exhibition at Christie's, thus bringing to London many works by familiar artists which are not often to be seen outside of Wales. The heart of the exhibition was a selection of the works of art collected by Gwendoline and Margaret Davies of Gregynog, and subsequently bequeathed to the national collection. These included Renoir's La Parisienne of 1874, and Monet's San Giorgio Maggiore by Twilight of 1908.
The Museum is sometimes criticised for not giving due recognition to the works of Welsh artists and those who worked in Wales. At Christie's the catalogue and the labelling was at pains to stress the importance of work in both of these categories, drawing attention to the Welsh credentials of, for example, Richard Wilson (his Dolbadarn Castle of c.1760 was on show), Thomas Jones and Penry Williams. It was also pointed out that artists of the calibre of Clarence Whaite, David Cox and the Pre-Raphaelite John Brett were frequent visitors to Wales, often staying for long periods. Wales did feature prominently in the exhibition; Lowry's 1962 Six Bells, Abertillery, was there, along with Paul Sandby's The West Gate, Cardiff (c.1773), Turner's Transept of Ewenny Priory (c.1797) and his Flint Castle (c.1834), David Jones' Caldy Island (c.1925), John Piper's Hafod (1939) and Graham Sutherland's Estuary with Rocks (1937-38). Nor were works by the Welsh-born Augustus and Gwen John forgotten, or Eric Gill, who lived and worked in Wales in the 1920s.
National Museum Wales has an interesting collection of artworks inspired by the Bible, but only one was on show at Christie's, Claude Lorraine's Landscape with St Philip baptising the Eunuch of 1678, which was bought into the collection in 1982. The painting's inspiration – one is tempted to say, excuse – is Acts 8:26-39, but with Lorraine it is the landscape which predominates. One would, perhaps, have liked to see David Jones' Annunciation in a Welsh hill-setting, Clarence Whaite's The Awakening of Christian or Penry Williams' Feast in the House of Levi, but then, we all have our favourites, and the purpose of this short exhibition was only to provide a taster of the work that is in the Welsh national collection, and perhaps tempt Londoners to venture west of Offa's Dyke to see it.
John Morgan-Guy
January 2007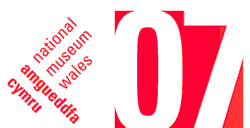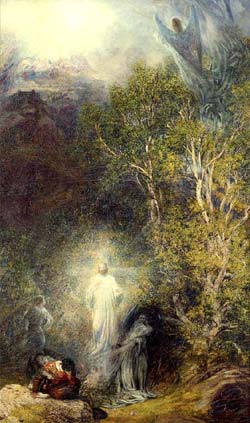 Henry Clarence Whaite, The Awakening of Christian c.1884