Head of AHRC Visits the Project
Professor Philip Esler, Chief Executive of the Arts & Humanities Research Council, met with the members of the 'Imaging the Bible in Wales' Project Team during his visit to the Centre for Advanced Welsh & Celtic Studies in Aberystwyth on Friday 1st June 2007. Professor Esler, who is currently on secondment from his professorship of Biblical Criticism at St Mary's College, St Andrew's University, has a particular interest in the Bible and Art; among his many publications is Visuality and Biblical Test: Interpreting Velazquez' Christ with Martha & Mary as a Test Case, which he co-authored with the artist Jane Boyd.
Professor Esler discussed work in progress on the project with Dr Martin O'Kane, Director, and then had the opportunity to view a selection of images from the database and website with the other members of the team, Dr John Morgan-Guy, Research Fellow, and Martin Crampin, Artist, Researcher & Designer.
Professor Esler commended the work of the Project in its first eighteen months, and will be contributing to its Spring Conference in 2008.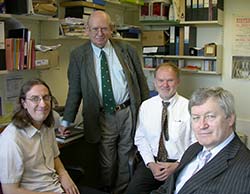 The Project Team with Philip Esler (right)