Light From Light
Contemporary Icons from Mount Athos
Sacred Space Gallery, St John's, Notting Hill, London W1
12 April – 24 May 2007
Dr John Morgan-Guy, Research Fellow, represented the Project Team at a Private View of the 'Light from Light' exhibition at the Sacred Space Gallery on 12th April. On view was a small selection of contemporary Icons written by Fr Iakovos, a monk from Mount Athos, and a series of wood-carvings by Bro.Gabriel. This was the first opportunity in the UK to view such a body of work from Mount Athos, and to meet the artists.
The Icons are written in accordance with the Byzantine canons. As the exhibitors maintain, 'Spiritual art is not elaborate and pretentious but simple and humble. It does not serve human passions, but God. It is not individual, but universal. Being guided not by personal, subjective preferences, or by the secular taste of the age, but by Tradition and Divine grace'. It is such an understanding and emphasis that gives the Icon its quality of being both 'in time' and 'out of time'.
There was good support for the exhibition at the Private View, and those invited were able to see and appreciate Icons of the Saviour (including one notable full-length figure), of the Theotokos, and a striking full-length figure of St Onophrios.
St John's, Notting Hill is an important Gothic Revival church dating from 1842, containing several interesting artworks other than those exhibited from time to time in the Sacred Space Gallery, which is housed in one of the transepts. There are two contrasting altarpieces, a three-dimensional tableau at the High Altar and a Coptic triptych, the work of the convenor of the current exhibition, Stephane Rene, in a side chapel. The church also houses the sculptor Sean Henry's 1998 work, 'Man on a Donkey' (painted bronze), which, though the artist disclaims is inspired by the figure of Christ entering Jerusalem on Palm Sunday, because of its context certainly and powerfully evokes that image.
St John's claims to be 'an open church serving God and the community'. The Mount Athos Icons in this exhibition, it can fairly be said, have precisely the same purpose.
John Morgan-Guy
May 2007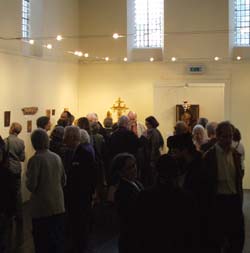 Views at the Private Vew, Sacred Space Gallery, Notting Hill, 12 April 2007.

Stephane Rene, Triptych of Christ, Virgin
Mary and John the Baptist