Imaging the Bible in Wales
An Interdisciplinary Conference
31 March – 3 April 2008
Aberystwyth
Scholars from the worlds of Biblical Studies and Art History as well as several practising artists were among the speakers at the Imaging the Bible in Wales Project Conference. Some 125 people were in attendance at the conference which included papers on artists such as John Petts, David Jones and Karl Parsons, the artisan tradition in Welsh popular prints, synagogues and non-conformist chapels.
On Monday 31 March an evening reception in the Drwm at the National Library of Wales followed the opening lecture given by Professor John Harvey offering a Nonconformist perspective on the Bible and Art in Wales. The following evening was spent at the School of Art previewing the Imaging the Bible exhibition, which was organised to coincide with the conference. On Wednesday afternoon a trip to local churches Llangorwen and Llanbadarn Fawr was organised. This preceded the launch of a book edited by Dr Martin O'Kane. Professor Sir Roger Williams was the speaker at the conference dinner.
Together with the project team, the speakers included:
Alun Adams, Welsh School of Architectural Glass, Swansea Metropolitan University
Andreas Andreopoulos, Orthodox Theologian, University of Wales, Lampeter
Hannah Dentinger, Art Historian, Minnesota
Philip Esler, Chief Executive, AHRC, and Professsor of Biblical Criticism, University of St Andrews
John Harvey, Professor of Fine Art and practising artist, School of Art, Aberystwyth University
Stephen Hughes, Royal Commission on the Ancient and Historical Monuments of Wales
Sharman Kadish, Director of Jewish Heritage uk, AHRC Research Fellow and Part-Time Lecturer, University of Manchester
Peter Lord, Art Historian, University of Wales, Swansea
Anne Price-Owen, Art Historian and Curator, Swansea Metropolitan University
Christopher Rowland, Professor of the Exegesis of Holy Scripture, Oxford University
Alison Smith, Curator, Tate Britain
Interested stakeholders in the project, ranging from members of various Christian denominations, practicing artists, conservation groups and educational representatives, discussed the implications of the project's findings beyond academia and in the community, in a series of panel meetings.
For the full programme please download the Conference Programme Word file • PDF file.
Versions of many of the papers will be published in an illustrated volume, Biblical Art from Wales (Sheffield Phoneix Press, 2009).
Conference photo archive | Imaging the Bible Exhibition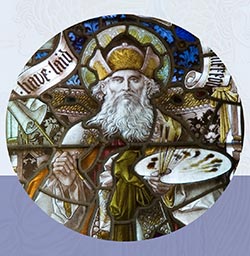 Percy Bacon Brothers, Hiram, King of Tyre, about 1920, Church of St Nicholas, Monkton Priory, Pembrokeshire

John Petts, The Risen Christ, 1986, Church of St Mary, Fishguard, Pembrokeshire