Imaging the Bible in Wales
Based at the University of Wales, Lampeter, the project team travelled extensively in Wales visiting a wide variety of sites. But closer to home, here is a selection of work from in and around Lampeter.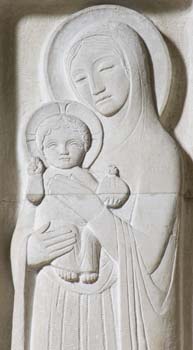 These two images are from the Roman Catholic Church in Lampeter. The carved wooden image on the right is by the Czech refugee artist, Jaroslav Krechler. Both the head of Pilate (not shown), and the figure shown here nailing Jesus to the Cross, seem to be modelled on Adolf Hitler.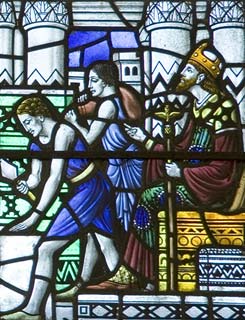 In common with much of the rest of Wales, there are good and varied examples of stained glass to be found in and around Lampeter. The Warrior Angel, (left), is from the Church of St Bledrws, Betws Bledrws, 1887. Designed by the Swedish artist Carl Almquist and made by Shrigley and Hunt, Lancaster. The image of Solomon watching the building of the Temple, is by Powells of Whitefriars, from the Church of St Peter, Lampeter, 1939. Stained glass may also be found in two nearby Unitarian Chapels, including the Image (right) of St Paul at Pantdefaid, Pren-gwyn, made by John Hall & Sons, Bristol, 1929.