St Gwenog's Church, Llanwenog, Ceredigion
The parish of Llanwenog lies in central Ceredigion, and, like many of the ancient parishes in that rural area, embraces an extensive tract of countryside. The churchyard was originally roughly circular in shape, indicating an early date for this llan (literally, a sacred enclosure) and at its heart stands the church of St Gwenog.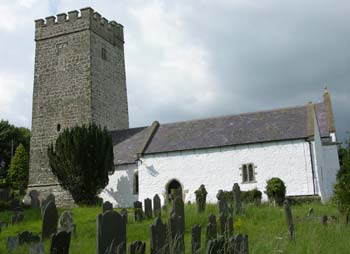 The core of the present building dates from the thirteenth century, but it was considerably enlarged in the late fifteenth by the principal landowner, Sir Rhys ap Thomas. The dedication – a unique one – is to St Gwenog, an early Celtic female Christian about whom almost nothing is known. The dedication, and the survival within the church of a notable twelfth century font, would indicate a continuity of Christian worship on this site probably dating back some 1500 years.